Over the last decade of my life, there have been many times when a book and a prayer helped me keep my sanity. Hell, there were times when the only leisure activity I could actually afford to do was to read a good book–and that alone was super empowering!
Needless to say, books have played such an integral part of my female empowerment story over the years. As I stepped into new roles as wife, mother, and finally entrepreneur, reading remained a way for me to find some balance and equilibrium amidst all the crazy changes that were happening in my life.
I've come a long way from the person I once was to the person I am today. Reading powerful books written by power females who are living their personal legends and kicking ass at life is a constant motivation for me. I want to share my love of reading with any woman looking–NEEDING–a little bit of inspiration.
Below you will find a curated list of book for some must-read female empowerment books. This list includes books by some of my favorite comedians, motivational speakers, spiritual gurus, and business powerhouses. I even included one of my own books–because I like to believe that one of the things I do best is to empower the women in my circle to be the best version of themselves that they can!
Simply click on the button that says preview and you will able to read the first few pages of the book right here within the blog post. If you like what you read, click the buy button and it will take you straight to the purchase page!
For those of you juggling full-time jobs and family life and possibly find it hard to find the time to actually read (trust me, I've been there and it sucks), I suggest giving audio books a try. Listening to audio books during my commute to work when I was working a 9-5 was a game-changer. Try Audible and Get Two Free Audiobooks
20 Must-Read Books for Female Empowerment
I hope you enjoyed my curated list of books for female empowerment. I know it's so cliche to say, but knowledge really is power lovelies. To have such easy access to what sometimes seems like an unlimited amount of literature is not something that everyone is privy to.
Take advantage of the knowledge that is right at your fingertips. Learn from those who have paved the path ahead of us. Take what you learn and become a more empowered maker, mover, and shaker!
Have you read any of the books on this list? What did you think? How did it make you feel? Any other books suggestions you can offer? Hit reply and share your thoughts!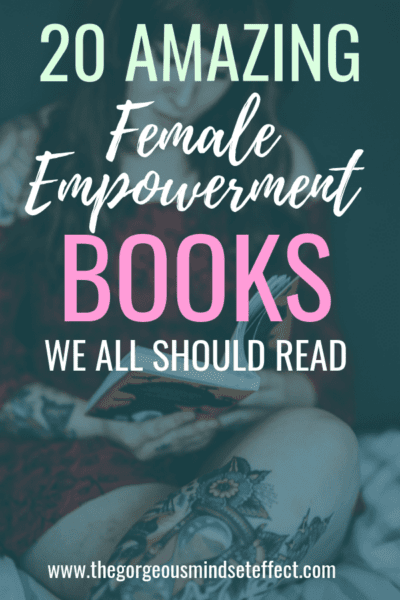 Disclaimer: The Gorgeous Mindset Effect is a participant in the Amazon Services LLC Associates Program, an affiliate advertising program designed to provide a means for sites to earn advertising fees by advertising and linking to Amazon.com.